Personality:
Troll/Joker
Homeworld:
Ovior
Demeanor:
Neutral
Special Ability:
None
Overview
"The Avarians see the universe as their own to conquer. Their technology and resources are vast, as is their twisted sense of humor" is how the Avarians are described on their card. The Avarians enjoy joking, even if they take it too far. They closely resemble giant birds, however with speech.
Notes
Players encounter an Avarian ship near Ovior. The Avarians met at Ovior take a joke too far, resulting in extreme damage done to their ship, by the Player. They make a quick getaway, while making fun of you.
Trivia
Presumed to be inspired by (or descendants of) the birds of Angry Birds fame.
Gallery
Fan Art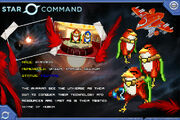 Ad blocker interference detected!
Wikia is a free-to-use site that makes money from advertising. We have a modified experience for viewers using ad blockers

Wikia is not accessible if you've made further modifications. Remove the custom ad blocker rule(s) and the page will load as expected.