Personality:
Varied
Homeworld:
Naut
Demeanor:
Unknown
Special Ability:
Self-replication
Overview
A species unlike any other, the Grol possess technologies far more advanced than any other race in the galaxy. Their intentions, however, are surrounded in mystery.
Notes
Players encounter a Grol ship near Naut.
Trivia
Gallery

Fan Art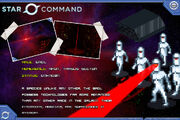 Ad blocker interference detected!
Wikia is a free-to-use site that makes money from advertising. We have a modified experience for viewers using ad blockers

Wikia is not accessible if you've made further modifications. Remove the custom ad blocker rule(s) and the page will load as expected.